There are no more items in your cart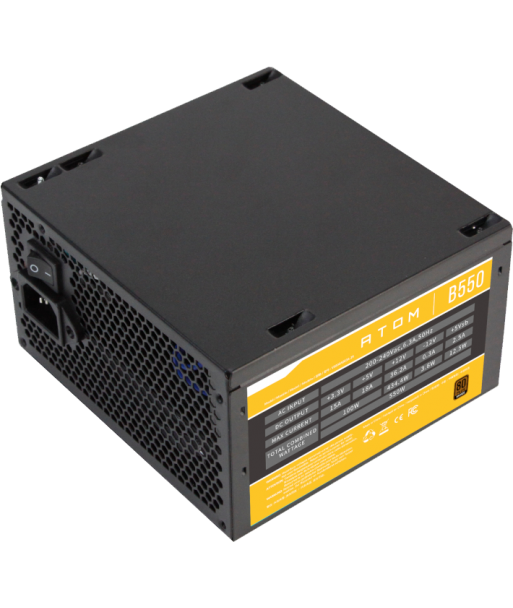  
Antec Atom B550 550W Non-Modular PSU
Antec Atom B550 550W Non-Modular PSU
Delivered within 3 - 5 business days
Secure Payment Options
Fast Delivery
30 Day Money Back Guarantee
Antec's new generation of Atom Bronze power supplies is crafted for quality, efficiency, and performance. Featuring 80 PLUS® BRONZE certification, and a quiet 120 mm silent fan. The 120mm silent fan is ideal for quiet computing and is designed for longer life, guaranteeing hours of reliable operation. The Atom B550 utilizes Active PFC and provides efficiency during max and low loads – living up to the performance standards that we are known for. For safety, the CircuitShield™ suite of industrial-grade protections ensures that the power delivered to your system is safe and reliable in any environment. The Antec Atom B550 80PLUS Bronze ATX Power Supply is the power supply you won't want to miss out on.
FEATURES:
80PLUS® BRONZE Certified – To reduce your electricity bill.
CircuitShield™ – Industrial grade protections: OPP/OVP/UVP/SCP
120mm Silent Fan
FLAT Cable
Thermal Manager – advanced fan control for optimal heat and noise management.
Active Power Factor Correction (APFC)
SPECIFICATIONS:
Input: 200-240Vac, 6.3A, 50Hz
Output: +3.3V/15A, +5V/18A, +12V/36.2A, -12V/0.3A, +5Vsb/2.5A
Total Output: 550W
Connectors:
24-Pin Main Connector x1
8(4+4) Pin EPS12V x1
8(6+2) Pin PCI-E x2
SATA x5
Molex x3
Cooling: 120mm Silent Fan
Certification: 80PLUS® BRONZE
WHAT'S IN THE BOX:
Antec Atom B550 80PLUS Bronze ATX Power Supply – Black x1
User Guide x1
Delivered within 3 - 5 business days
14 other products in the same category: