There are no more items in your cart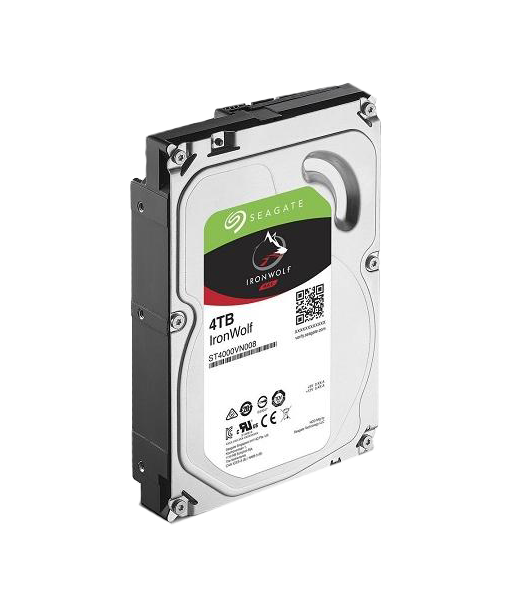  
Seagate 4TB IronWolf HDD
Seagate 4TB IronWolf HDD
Delivered within 3 - 5 business days
Secure Payment Options
Fast Delivery
30 Day Money Back Guarantee
Seagate 4TB 3.5" Iron Wolf NAS Hard Drive
SATA 6Gb/s | 64MB Cache 
The Power of Agility for Home, SOHO and SMB NAS enclosures.
Iron Wolf is designed for everything NAS. Get used to tough, ready and scalable 24 x 7 performance that can handle multi-drive environments with a wide range of capacities. 
Best-Fit Applications
- 1-8 bay network attached storage (NAS)
- Desktop RAID and servers
- Multimedia server storage
- Private cloud
Key Advantages
- Optimized for NAS with AgileArray. AgileArray is built for dual-plane balancing and RAID optimization in multi-bay environments with the most advanced power management possible.
- High performance means no lag times or downtime for users during high traffic time for the NAS. Seagate leads the competition with the highest performance in NAS-class drives.
- Get ahead with more cache. IronWolf provides high-cache options allowing your NAS to serve data faster.
- Do more with multi-user technology. Enables user workload rate of 180TB/year. Multiple users can confidently upload and download data to the NAS server, knowing it can handle the workload, whether you're a creative professional or small business.
- Designed for always on, always accessible 24 x 7 performance. Access your data on your NAS any time, remotely or on site.
- 3-year limited warranty represents an improved total cost of ownership (TCO) with reduced maintenance costs.
Tough. Ready. Scalable
For everything NAS, there's IronWolf. Always on and always working, IronWolf is enhanced with AgileArray technology for optimal reliability and system agility. Multi-user technology and extreme workload rates allow IronWolf to perform and scale up with your enterprise.
AgileArray and the Power of IronWolf for Your NAS
IronWolf is built with AgileArray. NAS-optimised for the best NAS experience possible, AgileArray focuses on drive balance, RAID optimisation and power management.
Be Creative Anywhere With IronWolf and Your NAS
Extensible and reliable storage helps keep you and your creative business on schedule. IronWolf is a great companion for your NAS for 24 x 7 remote access, backups and file sharing from anywhere, making sharing ideas easy. For growing agencies and the need for more storage, IronWolf is built to address NAS scalability challenges.
Game More With IronWolf Equipped NAS
Modern gaming consoles do double duty as home media servers, but limited storage makes keeping every file locally-stored a challenge. Gamers can move music and videos to a NAS equipped with IronWolf and use it as a storage target for media streaming. Get the most out of your console. You'll be able to stream all the content you want from your NAS to your game console, and be able to view it on your high definition TV.
Dominate The Media
Build your home NAS media empire with IronWolf HDDs. IronWolf leads the class in storage capacity and the performance needed to run high definition content with your NAS. Store thousands of full-length HD films and even more photographs on your private server. Think of it as your home cloud.
Delivered within 3 - 5 business days
14 other products in the same category: